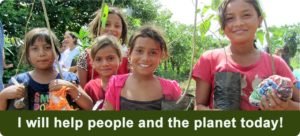 The tradition of Giving Tuesday (the Tuesday after Thanksgiving every year) was started by nonprofit organizations in 2012 as a response to the commercialization of the holiday season, and to support groups that work hard to make the world a better place.
To honor this tradition, I will donate 25% of all fees I receive from November 28 through Dec. 1 to Trees, Water and People, an innovative and efficient nonprofit organization that provides clean-burning cookstoves, reforestation, renewable energy and sustainable building projects to low-income areas worldwide – or to the 501(c)3 charity of your choice focusing on the environment or alleviating poverty.
So, how can I help you give yourself a new job? Contact me and let's talk about job search strategy coaching, resume or LinkedIn help, or interview coaching. Help yourself and help others at the same time!