"What kind of salary are you looking for?" An unskillful answer to an interview question about salary expectations – your salary requirements, desired salary, etc. – can cost you a lot of money – or cost you a job offer.
Naming a figure is risky. It your number is too high, the employer can't afford you. Too low, you hurt your credibility. Even if your number is right on, you limit your freedom to negotiate.
Follow the arrows in the diagram to see how to reply to the interviewer's questions (in purple) with your smart answers (in green).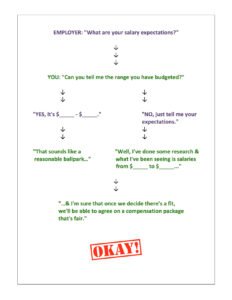 Practice your answers out loud – several times, preferably with a friend or an interview coach – before your next job interview. Good luck!