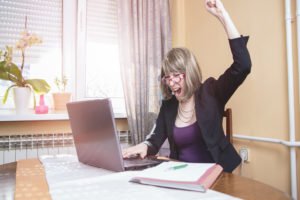 If you're shopping for a better job–what a great gift for yourself!–well, 'tis the season to get your resume ready. Many a January job was born from a December resume.
And if you think you know everything about writing a resume, here are some tricks I'll bet you didn't know for scoring these crucial wins:
Enhancing your job titles in a way that's honest and ethical.
Making your accomplishments pop!
Including not-so-recent experience without making yourself look ancient.
As a bonus, I'll note where some of these resume techniques can be used in your LinkedIn profile, too!
Hack #1: Enhance your job titles the honest way.
This one is especially good for anyone who's making a career change, but it's also useful if some of your past jobs are more relevant than their titles would indicate.
Let's say you want a job as a web developer. In your current/past job you did a lot of web work, but your title was Office Manager. In your resume you can write it like this: Office Manager (and Web Developer).
Not only does this bring the reader's attention to what's important, but putting these keywords in the job title will allow your resume to perform much better in applicant tracking systems, which will now count those years as web developer experience, bringing your resume higher up into the search results when HR searches through the database for web candidates.
Meanwhile, by putting "web developer" in parentheses you've made it clear that Web Developer technically wasn't your title, so you're not deceiving anybody.
You could put even more keywords in your title: Office Manager (and Web Developer–JavaScript, ReactJS, Angular, MeteorJS)
(Disclaimer: I'm not a web developer and this is just a quick example, so forgive me if that particular assortment of skills doesn't exactly make sense.)
This technique has a similar effect on LinkedIn.
Hack #2: Make accomplishments pop with a "Career Highlights" section.
If some of your proudest moments are buried on page two, you really need this. Somewhere near the top of your resume–perhaps between a brief Summary and your Experience section–create a section called Career Highlights and make a bulleted list of your 3-6 best success stories, condensed down to one or two lines each. Voila! Now the employer can't help but notice those stellar items.
This doesn't mean you have to cut those out of your Experience section; just provide slightly different (perhaps more detailed) information there so it doesn't look too repetitive.
You can do this in LinkedIn, too, in the Summary section.
Hack #3: List old experience without dating yourself.
If you're worried about age discrimination or looking overqualified, but you have old experience that you really need to include, read on.
Let's say you have the following work history:
Recently: 8 years of relevant experience at Fine Inc.
Before that: 10 previous years at TweedleDee Widgets and Tweedledum Consulting, which is not relevant to your current career goals
Before that: a 2-year gap
Before that: 5 years of relevant experience at Wow Inc., a highly admired company you're proud to be associated with
Rather than show 25 years of history including irrelevant jobs and a gap, do this: Under Experience, list your 8 years at Fine Inc. Beneath that, create a section entitled Additional Experience. In that section, show the Wow Inc. job, giving a bare minimum of information: your job title, the company name, and maybe one or two lines about it. No dates. There you go, neat and sweet.
I hope these state-of-the-art resume hacks have solved a problem or two for you. Go get that awesome new job in 2019. Happy holidays!