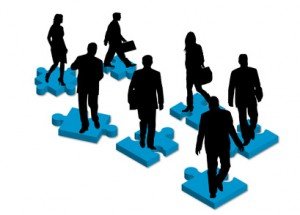 One of the biggest mistakes job seekers make in networking is focusing too much on asking about job openings.
Do you find networking stressful, depressing or unproductive? Shifting your focus could transform your whole experience – and get you a better job, sooner.
Consider this: Have you ever gotten a call or email from an acquaintance saying they're looking for a job, and asking whether you know of any openings for them?
If you're like most people, your answer to that question tends to be short and sad: "No, I'm sorry, I don't. I'll keep you in mind if I hear of anything."
Or perhaps the acquaintance wants to meet with you, but it's not clear exactly what they want from you – are they hoping you'll find them a job somehow? Do you feel a little pressured? Sorry for them? This can be uncomfortable for both people.
Try this approach instead: Instead of asking about openings, say "I've developed a list a companies I'm targeting in my job search, and I was wondering if I could show it to you and bounce some ideas off you."
Doesn't this sound more upbeat and attractive?
With this approach, networking becomes an opportunity to:
Build your Target Companies List – the list of organizations you might want to work for and that you're focusing on in your networking.
Become well informed about those companies, which helps you sell yourself to them – and also makes you a more interesting networking partner.
Gain referrals to other people to network with – people who can provide information or leads related to your list.
Spread the word about your skills and availability.
Focusing on organizations in your networking can lead to hearing about openings before they're announced – when there is much less competition and you can really stand out. How would you like a message like this:
"We haven't met, but Joe Jones said he spoke with you recently and was impressed. We might possibly have an opportunity coming up that you'd be interested in. Would you to come in and talk about it?"
In a future post I'll describe powerful techniques for using this approach to network your way into your next job. Subscribe to my blog to make sure you don't miss it!