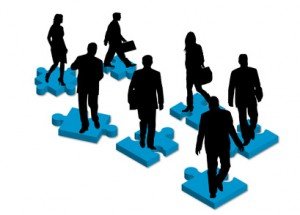 Do you find job search networking stressful, depressing or unproductive? Shifting your focus from openings to organizations could transform your whole experience – and get you a better job, sooner.
Consider this: Have you ever gotten a call or email from an acquaintance saying they're looking for a job, and asking whether you know of any openings for them?
If you're like most people, your answer to that question tends to be short and sad: "No, I'm sorry, I don't. I'll keep you in mind if I hear of anything."
Or perhaps the acquaintance wants to meet with you, but it's not clear exactly what they want from you – are they hoping you'll find them a job somehow? Do you feel a little pressured? Sorry for them? How uncomfortable for both of you!
Try this approach: Instead of asking about openings, say "I've developed a list of companies I might like to work for, and I'd like to get your thoughts about any of these, or similar ones."
That list of companies is a crucial part of networking. Without it, it's like you're trying to get to know the entire world, which is too big a project. Instead, focus on getting introduced to people connected with companies that are on your target companies list.
If you do that, you may soon find yourself speaking to someone at one of those companies. Again, don't ask them about openings–you can find that out on the company website. Here's a question that would be much better at engaging their interest and starting a relationship: "I'd like to talk with you about your view of current trends in the XYZ industry and your experience at QRS Company."
Doesn't this sound more upbeat and attractive?
With this approach, networking becomes an opportunity to:
Become well informed about companies of interest, which helps you sell yourself to them – and also makes you a more interesting networking partner.
Spread the word about your skills and availability without making anyone feel pressured to give you a job.
Gain referrals to other people to network with–and better yet, to hiring managers.
Focusing on organizations in your networking can lead to hearing about openings before they're announced – when there is much less competition and you can really stand out. How would you like to get a message like the following?
"We haven't met, but Joe Jones said he spoke with you recently and was impressed. We might possibly have an opportunity coming up that you'd be interested in. Would you to come in and talk about it?"
Transform your job search networking approach to get a great job much sooner.
This article was originally posted in 2013 and has been updated.