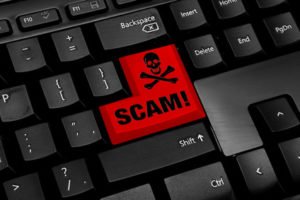 Have you ever submitted your resume to a recruiting firm online and been told your resume "fails" in some way and that some other website will "fix" it for a fee? No? Well if it happens, be wary! There's at least one resume scam going around.
Many career coaches are hearing from job seekers who have been scammed this way. Here's a typical scenario:
1. You are approached by a "recruiting" firm and told you are being considered for an executive job. They ask you to send your resume (and most likely sign a non-disclosure agreement).
2. You do a search on the "recruiting" firm and you find a few recent press releases saying that they are actively recruiting folks.
3. You get back an email that your resume could not be loaded properly in their applicant tracking system (ATS). They send you a link to "score" your resume. (or just to a site to "fix" your resume for a fee – depending on how it was set up).
4. You load your resume to be scored. It fails the "scorer."
5. You are sent to a website that will "fix" your resume for a fee.
If you were to go ahead and pay the fee, you might find that either you get nothing for your money, or some mediocre resume editing that won't help you at all.
In general, be suspicious of anonymous-looking resume shops. Instead, find a good, certified resume writer who has abundant information online about her/his training, certifications, testimonials and so on. Then have a conversation with them and ask about their process. If they won't talk to you, you don't get the feeling they really know their stuff, or you just don't feel comfortable, think twice about working with them.
Don't get taken in by resume scams!