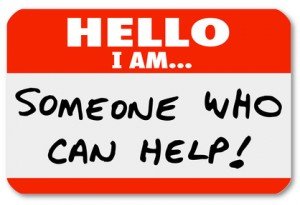 Applying for a job? It helps to be referred in by an existing employee, but if you don't know anyone there, why would they refer you?
Many larger companies have employee referral programs in which employees can get a cash reward for referring someone. The trick is to find someone in the company who will chat with you and then, if the rapport is good, ask for the referral. There's definitely something in it for them!
Here's how you can do it.
Find out whether the company you're about to apply to has an employee referral program. Try calling Human Resources to ask them, or visit their Facebook page, which can sometimes be an easier way to get answers from HR. Or just cross your fingers and proceed with the next step.
See if you can find a connection within the company. Social media can help with this. For example, if I go into my LinkedIn and type the name of a Fortune 500 company into the search box (leaving the dropdown set on "People"), even if I don't actually find somebody I know who works there, I usually find at least a few second-degree connections. That means that someone I know can introduce me to someone who works there. (Obviously all this works much better if you have lots of LinkedIn connections.)
Your message for the person who works there is:
"Hi _________,
"John Smith suggested I get in touch with you. I'm about to apply for the position of Quark Polisher III at your company, and I was wondering whether you might have five minutes to chat sometime this week. I'd like to hear your thoughts about the company culture and what it's like working there."
With a little luck you'll end up having a conversation with that person. After you've talked a few minutes, if there's a pleasant rapport developing, offer to give their name as the referring person. If you have discovered that the company gives a referral reward, mention that. It's a win-win situation!
Caution: Be careful not to promise there will be money, in case your information is mistaken or out of date. Say something like "I think you can get a referral fee – is that right?"
You might also ask if they would be willing to send your resume directly to the hiring manager or other influential person. That would be a big plus, since a message from someone within the company is more likely to be noticed than from a stranger. You're not necessarily asking them to vouch for you, just to send the resume and mention that they spoke with you.
And if they do that, you may want to take the extra step of calling that manager to follow up – assuming the job posting does not say "No calls."
You still need to apply during normal channels as well. Contacting the hiring manager is in addition to that, not instead.
Be sure to send a nice thank-you card to the person who referred you, invite the person into your social networks as appropriate, and cultivate a relationship. Look for ways to return the favor.
Will this work every time? Of course not! Nothing in job search is sure-fire. Let go of needing to see results from every action you take, pat yourself on the back for taking the right actions, and keep visualizing success. You may get no results, still no results, again no results – and then suddenly you've got an interview and an offer!