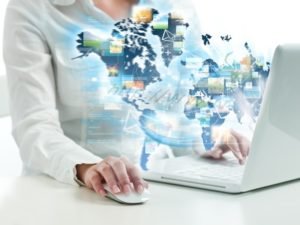 Searching for jobs online is not the be-all and end-all of job search, but it has its place, so you want to know how to do it right.
Even if you're not yet ready to apply, it's wise to start looking at postings ahead of time. (See my post "Job Postings: Better Uses for Them" for many reasons why.)
Here are some tips on setting up an efficient online job search:
Search many sites at once.
Metasearch engines or "content aggregators" like Indeed and/or SimplyHired search thousands of other sites – including big job boards like Monster and CareerBuilder as well as major specialty boards like the high-tech site Dice – and bring the results all together in one place. For a metasearch of companies' own career pages, you can use Linkup (not to be confused with LinkedIn, the very useful professional networking site).
Fill in the gaps.
The aggregators may not do it all. If you have your eye on specific companies, you may want to check their websites individually just in case Linkup doesn't cover them. Company websites are important because some jobs here may not be found elsewhere, since companies don't always want to spend the money to post on job boards.
Note that our old friend Craigslist does not allow content aggregators to access its job postings, so if you want to search Craigslist you have to do it directly.
Use "advanced search."
Try setting up several advanced searches based on different combinations to keywords and criteria and see which searches get the best results; later you can delete the ones that are returning irrelevant results.
Get the search results emailed to you.
Many sites have this option, which makes it harder to procrastinate or forget to check for job openings. One email per day (from each of your saved searches) may be best if you're very busy or just don't want to be overwhelmed. On the other hand, some prefer to get each post as soon as it appears. It is often true that "the early bird gets the worm," although the urgency is usually in terms of days, not hours.
Now what?
Soon you'll be seeing more postings than you know what to do with. Subscribe to this blog for smart tips on how to use the information!