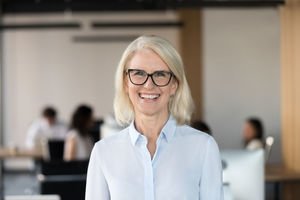 How can you successfully interview for a job you may be overqualified for? Actually, there's a lot you can do to overcome this perception and get the offer.
Address the Underlying Concerns
Often, the interviewer's main concern is that you'll be bored, with the result that you'll either leave for a more challenging role or that you'll "check out" mentally and do lackluster work.
With that in mind, go out of your way to explain why the job is exactly what you're looking for and you'll be fully motivated and engaged.
Here are some examples:
You've spent many years doing extremely challenging jobs, but having "been there and done that" you now want a job with a predictable schedule, more work-life balance or less travel.
You love hands-on work, and you missed the creativity/customer contact/outdoor work/etc. when you moved up to management. You want to return to your first love, as it were.
You have a side interest that takes up a lot of your time—for example, earning a degree over the next couple of years—and you want a job that dovetails with that, and that would be equally or more important to you.
You're transitioning into a new industry, or a new type of work, and you're intentionally gearing down to learn the new business from the ground up.
You're taking a lower role in order to get a foot in the door at your dream company. You're eager to prove yourself and you understand that you'll need to work hard, be a team player and pay your dues.
What's true for you? How can it be presented in the most positive light possible?
Point Out the Advantages
Discuss how you can do more than your less-qualified competition. You can be a valuable resource for your less experienced co-workers, help train new hires, troubleshoot tricky issues. If the interviewer seems open to it, you might even discuss ways the role could evolve to capitalize on your greater abilities. Of course, that strategy could backfire if it makes you seem dissatisfied with the role as it was described in the job posting, so follow the interviewer's cues.
Watch Your Language
Avoid management jargon if you're interviewing for an individual contributor role. Be humble and don't lecture or show off knowledge that isn't pertinent to the role, especially if the interviewer is younger than you. Give examples and tell stories as close to the level of the position as possible, even if you're very proud of your more advanced accomplishments. Make "relevant" your watchword. If a skill or example isn't relevant, don't go out of your way to bring it up.
Be Strategic but Always Honest
You don't have to mention everything, but never lie to a prospective manager or colleague. People talk, time goes by, and "the truth will out."
Bring Excellent Interviewing Skills
Candidates don't necessarily succeed or fail for just one reason. Learn how to do an outstanding interview overall.
Consider Whether You're Aiming at the Right Level
Sometimes candidates apply for lower-level jobs because they've been unable to get an offer at the level they're qualified for. A better solution is to work with a coach to ensure that your job search strategy, resume, LinkedIn profile and interviewing skills are up to current best practices. Job search skills are every bit as crucial as your ability to do the job.
Above all, never assume you "can't" get a job because you're overqualified. There's an employer out there who will welcome your experience and skills. Consistently use best practices like the ones I've described, and you can convince one of these interviewers. All it takes is one!