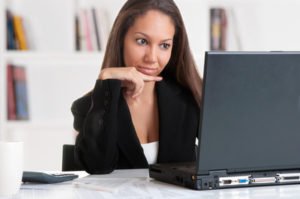 Even if you're not in job search mode, LinkedIn is essential as a place to make connections and communicate your value in the professional world.
To help you get the most out of LinkedIn, here are 10+ tips for creating a profile that will help you achieve your career goals.
1. Consider your name. Will you be Thomas G. Brown, Tom G. Brown or Thomas Grant Brown? Before you even go to LinkedIn to sign up, do an internet search on various forms of your name and see what turns up. You want a clean, unique identity so you won't be mistaken for anyone else. You may want to use the name most people know you by, for example Beth instead of Elizabeth.
2. Do upload a photo or other image of yourself. Use a good head-and-shoulders photo of yourself in business clothes. Smile and look approachable. If you're concerned about age discrimination, invest in a really good professional photographer and tell them to make you look as young as possible through lighting and focus. Or use some other type of portrait. It's not rare, especially among creatives, to see artfully computer-generated portraits that can be very flattering.
3. Use the Professional Headline to your advantage. You've got 120 characters (including spaces) to brand yourself. Don't just use the default, which consists of your title and current company. Changing the headline at some later date when you're interested in moving on may tip off your current employer; start with a forward-looking, customized tagline right from the beginning.
4. Write an engaging Summary. In a future post, I'll go into detail about this crucial piece. For now, read this brief post from Jason Alba's blog I'm On LinkedIn, Now What? For a good example, see my own Summary.
5. Write full, compelling descriptions for your Experience section. Emphasize accomplishments. How did you make a difference? Include the most important keywords for your occupation and industry.
6. Be complete. Fill out every section unless you have a strategic reason not to do so.
7. Request recommendations. This is one of the most powerful and underutilized aspects of LinkedIn. Why not have supervisors and other management VIPs, clients, co-workers, teachers (if you're a student) and others singing your praises? In an increasingly review-driven online world, recommendations boost your credibility. It's easy to request recommendations once you find the links to click.
8. Get help from a writing professional, or at least a skilled proofreader. Very few of us can write a profile without any typos, grammatical errors or incorrect punctuation. You wouldn't want to have a messy spot on your collar at a business event, would you? Don't have one on your profile.
9. Understand the Privacy and Security Settings. Visit this section via the dropdown menu under the tiny photo of you at the upper right-hand corner of the profile. For many people the default settings are just fine; others will want to control how much of their information and updates are visible and broadcasted to their contacts.
10. Customize your URL. A cumbersome URL like "www.linkedin.com/put/your-name/17/525/527" looks a bit clueless. It's easy to get a smooth URL like this: www.linkedin.com/in/theakelley. Just click "Edit" next to the URL under your picture and follow the instructions.
IMPORTANT BONUS TIP!
Don't stop after filling out your profile! Explore. Keep learning. Much has been written, and is still being discovered, about effective use of this powerful networking tool, and these tips are only a start.