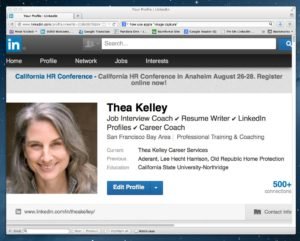 If you're among those to whom LinkedIn's new simplified menu has rolled out, you may have noticed that the path to requesting a Recommendation from a contact is no longer obvious.
And if you've read my recent posts LinkedIn Profile Mistake #1 or LinkedIn: Recommendations vs. Endorsements, you'll know that recommendations from supervisors and higher-ups, clients and colleagues are very important.
Until very recently – and still, for many users – Recommendations has appeared under the Profile menu right at the top of the page. Not any more!
But no worries, all you need to do is the following:
Under Profile, select Edit Profile.
Scroll all the way down to Recommendations near the bottom of the profile.
Click the pencil icon to open the box.
Click the blue "Ask to be recommended" link in the gray area to the right of the box.
From there it's fairly self-explanatory, but do replace the standardized request verbiage with your own personal note. After all, you're asking for a favor. Plus, you'll want to use this space to give your contact some guidance as to what you'd like the recommendation to focus on. Pasting in a draft recommendation can be very helpful to a busy professional.
For additional tips, check out the links above.
Here's to your highly credible, impressive profile!