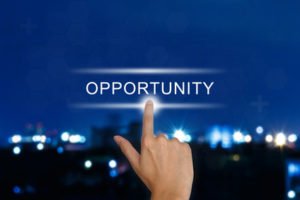 In last week's post I shared two easy ways to build your target companies list – a powerful tool for a proactive job search – by using LinkedIn.
In this post I'll share two more methods from The 2-Hour Job Search by Steve Dalton. These methods use (1) Indeed.com and (2) news sources related to your occupation or industry.
With your target companies list you can go after opportunity in a proactive, strategic way that gets better and faster results than applying to online job postings.
Time Management Alert: Avoid getting overwhelmed or wasting time. Commit to spending only 10 minutes on each method. You may be surprised what you can accomplish in a few minutes if you stay on task. (You may want to set a timer!)
Do a quick Indeed search to find employers of interest.
Using Indeed's advanced search feature, type a few keywords into the box labeled "With all of these words." Include the location where you want to work.
Example: MBA marketing "san francisco"
Now, instead of getting sidetracked into reading and applying to the postings (along with the hundreds of other job seekers who are applying to them today), just skim the list for companies that are not yet on your companies list and find 5-10 companies of interest that aren't already on your list. Add them. Stop, and move on to the next method.
Time Management Alert: If you see an opening you want to apply to, do it later. First, stay on task with the more proactive, strategic approach we're talking about here. (If you're not sure why applying to these online jobs shouldn't be your top priority right now, remember that only about 20% of jobs are filled by applicants who found the opening online. Far more involve a personal connection and/or networking.)
Next method: Look for companies while reading news and trends about your field.
What websites or trade publications do you read for news about your profession and/or industry? Spend 10 minutes looking through this material with an eye open for companies that are doing interesting things. Add those companies to your list.
This method may yield fewer companies than the other methods, but the companies may be especially interesting, trend-setting ones – so don't skip this step!
Have you got at least 40-50 companies yet? If not, no worries, simply repeat one of the steps in this article or the previous one – whichever method worked best for you – until you reach that target.
A word about information management:
What you're developing here is a personalized database of your target job market and contacts within it. You're going to need to organize all this to use it effectively. So do use some kind of contact management software. There is actually a product that is designed specifically for job seekers, called JibberJobber. It's all web-based, so there's nothing to purchase or download, and you can use it for free unless you want the premier features. I'm quite familiar with it and I recommend it to my clients.
What's next?
Dalton's book goes on to describe his techniques for filtering and using your companies list, and I may share that in a future post. Prioritize your list and use it to network your way towards your new job. If you haven't already read my post "Networking With a Marketing Plan" this would be a good time to check it out.
Ultimately, what you're accomplishing with these methods is to become known to insiders in companies where your next job is waiting to open up. That way you're positioned to get that wonderful phone call saying "We thought you might be interested in an opportunity…"