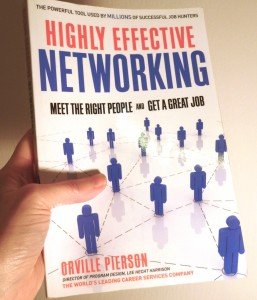 I'm going to tell you a secret. Job search books aren't my favorite thing to read.
Nevertheless, I'm enjoying Highly Effective Networking: Meet the Right People and Get a Great Job by Orville Pierson, and not just because it's well written and has an encouraging tone.
This book does a great job of dispelling the myths that making your networking a loss less enjoyable and effective than it could be – or stopping you from even doing it.
In job search networking, the one most important thing is to make everyone you talk to comfortable. Why? If they're not comfortable, nothing will happen … If they're not comfortable, you're not comfortable.
Isn't that awesome? It seems there's actually a way networking can be comfortable.
Another big stumbling block for many of us is that we don't want to bother people. We don't want to impose.
Here's what Pierson says to that:
"Don't forget to look at it from the other person's point of view. If you were a friend of mine and had something important happening – like a job search, maybe – and you didn't include me, I'd wonder if we were really friends. If I heard from others about it, rather than from you, I might actually be offended.
"Now … it's also true that you need to help your friends help. They probably don't know much about a highly effective job search. Most people don't. Everyone thinks of 'job openings' or 'who's hiring.' Then they feel helpless and unable to assist you because they don't know much in either of those categories. When they're uncomfortable, the discussion becomes awkward.
"Don't let that happen. … Help them help you."
How do you learn to "help them help you"? Read the book. Or, for a quicker introduction right now, read my article "Networking with a Marketing Plan."
I've been coaching my clients in networking approaches very similar to those of Pierson and LHH. I actually worked for LHH for a year in 2008, right after I was laid off from my last corporate job at the beginning of the Great Recession. I never met Orville, but I taught job-search classes that he probably designed, and I saw how well it worked for those clients.
As one of my own private clients wrote more recently,
Thea's approach put my contacts and me at ease.
If you'd like customized, one-on-one assistance in setting up networking habits and activities that will help you get a great job sooner, I'm here to help.
And you don't have to "bother" anybody!