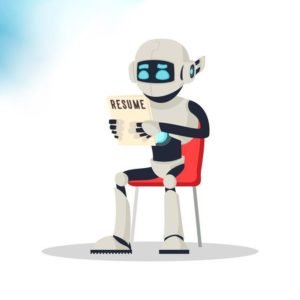 The resume robots are coming! Actually they've been in use for years, but most job seekers still don't realize how to deal with them. I'm talking about applicant tracking systems (ATS), the technological gates that stand between you and an opportunity.
More than 95 percent of Fortune 500 companies, and many smaller ones, use an ATS to "read" resumes. The ATS uses a resume to fill in a standardized candidate profile in a database, which HR personnel then search through for candidates to interview.
Depending on how your resume is written and formatted, you may turn up near the top of the search results, languish further down the list, or not be in the list at all.
It's fairly simple to ensure your resume is robot-ready. Here's how.
Use the document format requested by the employer, or one of the following: .doc, .docx, .rtf or .txt. Most ATS's read these formats, but they don't read .pdf files, for example.
Make sure your resume has the right keywords. Did you know that the most important keyword is the title of the job you're applying for? Use that job title as the heading for your resume, but it's even more important in your Experience section. Even if you haven't held that title before, there is a way that you may be able to honestly fit it in.
Other important keywords include industry-leading companies, products and services, and the skills and tools most often used in the target job. These keywords are generally found in the job posting.
Location is an extremely crucial keyword. Employers generally prefer to hire people who won't need to relocate. If you're looking for a job in a different city or state than where you live, it's a good idea to add the city, state and zip code of your desired location to your resume. Don't claim you live there, but instead of listing your current address write something like "Ready to relocate to San Jose, CA 95134."
Realize that ATS's ignore information in headers and footers, so make sure your name and contact information are in the main body of the document, not in a header.
The same goes for text boxes and graphics. It's okay to include these, but make sure any crucial information in them is repeated elsewhere.
Use standard section headings such as "Experience" (or "Professional Experience," "Relevant Experience," etc.) rather than "Career Progression" and "Education," not "Academic Achievements." If the ATS doesn't find a section labeled "Experience," that portion of your profile may end up empty, and that certainly won't get you to the top of the search results.
If you started and left a job within the same calendar year, include the months. An ATS adds up your experience in months, with "2018-2019" showing up as 12 months, "Apr.-Nov. 2019" as eight months, and "2019" as zero months.
Follow company names with "Inc.," "LLC," "Corp." or such designations. Together with city, state and dates, these help the ATS recognize a job in your resume.
Unless you're putting your resume straight into the hands of your prospective boss–and possibly even then–you need to make sure your resume is applicant tracking system compliant. In other words, be ready for the robots!