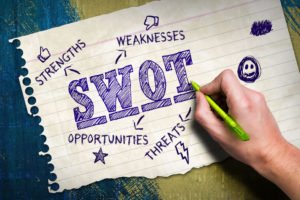 Let's explore how SWOT analysis—a process of assessing Strengths, Weaknesses, Opportunities and Threats–can help you prepare for a job interview. Being prepared for an interview almost always works better than "winging it."
Strengths
In order to be strategic in the interview, you need to know what aspects of your background and strengths are most likely to make you stand out above the competition. Know your unique selling proposition or "key selling points" and be prepared to communicate them convincingly, from your answer to the first interview question, through all the SOAR/STAR stories you tell.
Weaknesses
Whether or not the interviewer specifically asks you a question about your weaknesses, they may have concerns about you—after all, nobody's perfect. Identify the most likely concerns and prepare to address them even before the question is asked. For example, if you think the interviewer may think you're overqualified, you might mention early in the interview that you're looking for a role that's personally fulfilling rather than high-paying, or that you prefer being an individual contributor instead of a manager because you enjoy hands-on technical work.
Opportunities
Every interview question, even if it's about something negative, is an opportunity to present yourself as the right person for the job. For example, "Tell me about a time you failed" is an opportunity to show that you take risks and learn from your mistakes. Think of every question this way. Even the so-called "thank-you note" you send afterwards is not just a formality but an opportunity.
If the interview results in an offer, now you have an opportunity to negotiate, not only about money and benefits but potentially anything about the job, including the timing of the first salary review, PTO, hours, title or even the job responsibilities.
If you don't get an offer this time around, don't assume "not now" means "never." A gracious email thanking the hiring manager for considering you and expressing interest in future opportunities (possibly including contract work) can reopen the door. The candidate who got the offer may not work out. Or another position may open up.
Watch for opportunities throughout the process.
Threats
Spend a few minutes identifying likely problems and then make a plan to prevent them. For example, if you're planning to leave work early for the interview, identify issues that could come up to stop you, and plan ahead to prevent them. In case of transportation problems, have a Plan B. And if you tend to forget things when you leave the house, use a checklist. Having identified and prepared for possible threats, set those thoughts aside and focus on researching the company, practicing your answers and visualizing a successful outcome.
What do you think? How will you use SWOT analysis to prepare for your job interview?