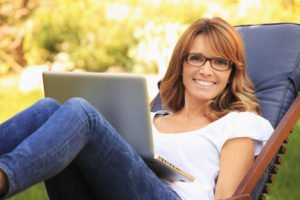 Memorial Day is past, and many job seekers are easing off the job search accelerator and slowing down, thinking summer isn't the right time of year to look for a new job.
Actually, there are several very good reasons to put your search on cruise control instead of downshifting.
While there may be fewer openings, there are also fewer people competing for them. So it's easier to stand out.
Plant seeds in May and June to harvest a job in fall – or sooner! Yes, the pace of life in many offices accelerates in fall, and many recruiters work hard during the summer filling the candidate pipeline so they can have new people in place before they're needed. Hiring processes take time – longer than they used to, in many cases.
Your job search efforts also take time: planning your strategy, polishing your communications, researching prospective employers and getting on their radar screen ahead of time through networking and informational interviews.
You wouldn't plant tomatoes a few weeks before you want to pick them. The same goes for getting a new job. Seed your visibility in the right places. Feed your job search with the business intelligence you gather from informational interviews and networking. Prepare and cultivate now so you can harvest interviews and offers later – or sooner!
Activities to work on now:
Prepare good, concise, upbeat answers to key questions like "What do you do?" "What happened to your job?" and "What are you looking for now?"
Be ready to capitalize on summer networking opportunities like barbecues and parties. Avoid asking people if they know of any openings. The answer to that question is usually short and sad: "No, sorry, I don't."
Instead, mention what you do, what you're looking for, and a few companies you've got your eye on. This gives them the opportunity to mention that they have a friend who works there, or used to, or is a vendor or competitor.
If you're lucky, the conversation may go like this:
Guy at Party: "So, what do you do?"
You: "I'm in marketing. Right now I'm looking for a director-level position in a large Bay Area food or beverage company like Clif Bar, Peet's, Ghirardelli or Jamba Juice – something like that."
Him: "Oh, my friend Cheryl used to work in the Ghirardelli corporate office, although now she's at See's in South San Francisco. I could introduce you to her. They're not hiring, though."
You: "Well that's perfect, actually, I'd love to talk with her about her experiences in both of those companies. If you'd like to introduce me, that would be great! Thanks so much!"
Take advantage of the more relaxed pace to line up coffee dates and informational interviews.
Get some exercise. It's easy to get discouraged if you're between jobs or unhappy in your current job. Exercise helps keep your mood upbeat and your energy level high.
Plan some time off, but otherwise commit to a steady schedule. Even if you're employed and can only spend a couple hours on the weekend, make commitments to yourself and keep them. Buddy up with a friend, or join a job search club. Find sources of structure and accountability.
If your resume and LinkedIn profile aren't the best they can be, now is the time to get them in shape. If you need help, realize that good resume writers / career coaches are often unavailable on short notice, especially during their busy season, August through October. Shop around now so you can choose a pro on the basis of quality and rapport, not short-notice availability or quick turnaround.
The same goes for interview preparation. An interview is like an exam where an "A" is worth thousands of dollars. Don't just cram at the last minute. Read books and/or get coaching well ahead of time, so a "pop quiz" (a phone screening) won't catch you unprepared.
Don't buy into myths and excuses. The truth is, a great new job offer can come at any time of year.